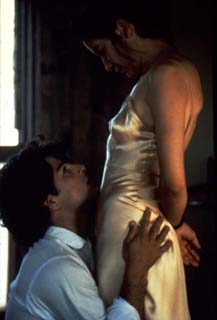 Like Water for Chocolate
by Miramax
The top-grossing Foreign Language film of all time in the United States, Alfonso Arau's sensuous hit film is a magical tale about a young woman whose cooking casts a romantic spell.
"Everybody's favorite movie came to us from Mexico as a mono pre mix. Our job was to turn it into a Dolby Stereo mix with Left, Center, Right, and Surround tracks, as well as to accomodate the many picture changes which accompanied the final sale to Miramax. From the beginning we felt this beautiful love story should have an equally beautiful sound track. Our main task was to replace all the music in the stereo format and re-edit all the music cues to new lengths required by the picture changes, and to do so musically! Here digital editing was indispensible to the process. Stereo EFX and ADR were also required prior to bringing our mix to Todd-AO for touching up and encoding to Dolby Stereo."
Bill Markle, William Markle, Inc.
455 West 43rd Street
New York, NY 10036
212-246-8642
"Bill Markle was responsible for adding an aural depth and richness to my movie. He gave me what I wanted and then some."
Alfonso Arau, Director

Back