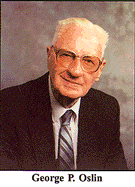 George P. Oslin
---
Note: Our dear friend George Oslin passed away October 24, 1996 at the age of 97. He lived a full life and passed away in the care of his loving family.
George P. Oslin, born in 1899, attended the Pulitzer Post Graduate School of Journalism at Columbia University. His early career was as a reporter for the Newark Star Ledger and later the Newark Evening News, covering major stories like prohibition, the Lindbergh baby kidnapping, and the Hindenberg Zeppelin Disaster. For 35 years he served as public relations director for Western Union. He is perhaps best known for his inventing the "Singing Telegram" in 1933.
Among the hundreds of who told him their experiences were Thomas A. Edison, William Henry Jackson (Civil War soldier, pioneer photographer, and covered wagon bullwacker), and William Campbell (last surviving Pony Express rider.) From company documents, thousands of newspapers, magazine, and books, and more than 100,000 letters and diaries of the pioneers were pieced together and condensed into the real story of their struggles, strategy, and success, The Story of Telecommunications.
---
"Suddenly a watch instead of a calender became the measure of time."
---
To order The Story of Telecommunication call 1-800-637-2378 ext. 2880.
---
© E-Media - 1995. All Rights Reserved.