The Story of Telecommunications
---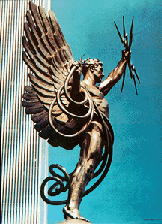 It began with a federal research grant and a few wild-eyed visionaries. When the first link went online, it was little more than a curiosity used by a small handful of scientists. Then slowly, as more people became involved, it gradually developed a momentum that grew and grew until it eventually connected the entire earth. It stimulated a boom in global communications and innovation and changed life as we know it. And it all started started over 150 years ago with the invention of. . .
Happily, this important book is back in print.
---
Information about the author -- George P. Oslin
Adapted to the Web by Ken McCarthy and Brian Wort
Please send us your comments
---
Bibliographical Information for Librarians

Oslin, George P., 1899 -
The Story of Telecommunications / by George P. Oslin
xii+507pp. 7x10" (18x25.5cm)
Includes bibliographical references and index.
ISBN 0-86554-418-2 (alk. paper)
1. Telecommunications - History
2. Telecommunications - United States - History
I. Title

To order The Story of Telecommunications, call 1-800-637-2378 ext. 2880
---
© - 1995. All Rights Reserved.
Last Updated November 14, 1995