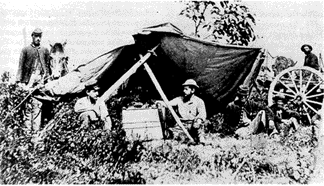 The Civil War
---
In the Civil War, a Union telegraph operator put his Morse key on a box under an available cover to keep it dry, connected it with a line hastily strung on trees, and provided the commanding General with contact to Lincoln's telegraph office, and with scattered units of his army.
Back
To order The Story of Telecommunication call 1-800-637-2378 ext. 2880.
---
© E-Media - 1995. All Rights Reserved.