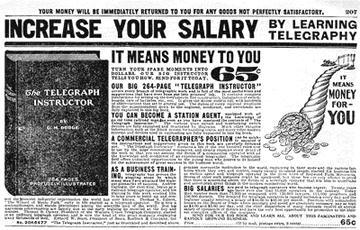 Sears Catalog - 1908
From the E-Media Telecommunications Archive
"Big Salaries are paid to telegraph operators who become expert. The demand for telegraph operators is rapidly increasing every day and the beginner receives a salary of $50.00 to $60.00 per month. The chief dispatchers of many railroads receive an annual salary of thousands of dollars and have the very best opportunity for promotion to the highest executive offices in the company."
---
Back
---
To order The Story of Telecommunication call 1-800-637-2378 ext. 2880.
---
---
© E-Media - 1995. All Rights Reserved.