Images from the first Wired Age
---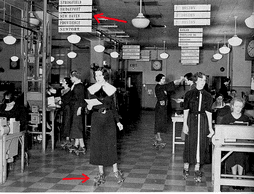 Route aides transported telegraphs from one part of a large telegraph office to another -- on roller skates!
Western Union moved its headquarters from 145 Broadway to the new, largest telegraph building in the world at 195 Broadway. The air over Broadway was busy with wires connecting the building with lines to all parts of the country. The wires were placed under the streets after fire destroyed the upper floors in 1890.
---
An essay on how the Web fits into this story
---
To order The Story of Telecommunication call 1-800-637-2378 ext. 2880.
---
© Amacord - 1995. All Rights Reserved.