Thelonious Monk and Bud Powell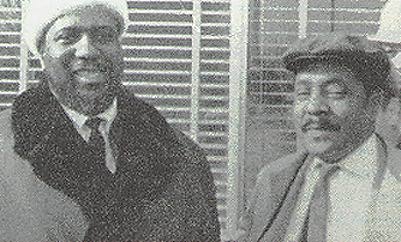 Thelonious Monk and Bud Powell in 1964 - Close, lifelong friends
"The relationship between these two fountainheads of modern jazz has been close on both a personal and musical level ever since the legendary days in the early Forties at Minton's Playhouse in Harlem, when the still-teenaged Powell (Monk's junior by four years*) would stop by to hear, and sit in with, the house band of which Monk was a regular member."
Dan Morgenstern
Liner notes from "A Portrait of Thelonious" by Bud Powell
* Other sources report that Bud was seven years younger. Monk showed little interest in documenting the date he was born. It's now accepted that he was born in 1917, not 1920 as reported in early articles about him.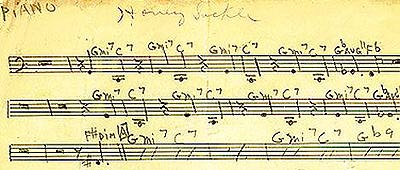 "Honeysuckle Rose" - Arrangement by Bud Powell
From the collection of Johnnie Ingram
In walked Bud
"As the musicians were packing up their instruments after the show, the police stormed the club and went after Monk. He refused to show his identification, and was forcibly arrested. A fan barred the door and challenged the officers. They tried to push him aside, but he wouldn't budge. 'Stop,' he yelled. 'You don't know what you're doing. You're mistreating the greatest pianist in the world!' At this point a nightstick came down on his head like a lightening bolt. The young fan was Monk's best friend, Bud Powell. He was dragged along with Monk, and thrown into jail after his injury was superficially treated at the hospital.
After his release Powell complained of alarming headaches. He eventually checked into Bellevue Hospital, then spent three months in Creedmore Hospital. There he was treated with various psychoactive drugs and shock therapy. His artistic career had barely started, but henceforth he would be bedeviled by psychological problems. Monk was aware that Powell's intervention had saved him from a similar fate. For his ill-starred protege, he wrote 'In Walked Bud', '52nd Street Theme', and 'Broadway Theme', otherwise simply known as 'The Theme.' The numbers were intended to be Bud's property alone, and Monk never recorded them."
Thomas Fitterling
From "Thelonious Monk: His Life and Music"
The only Thelonious Monk biography in English. With very detailed discography.
Back to Amacord Jazz