The Death of Lincoln Beachey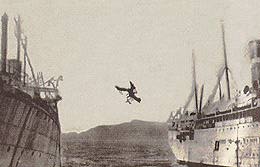 Memorial
Why is it that the newsies' cry
Is sad and almost stilled?
We hear a sobbing sigh,
Weeping that Beachey's been killed.
Our Viking of the air laid low?
That mighty spirit crushed?
No wonder voices tremble so,
No wonder all seems hushed.
A thousand times we've seen you wheel
And hurtle through the sky.
A thousand times with death at your heel
You've carved your name star high.
Ah, Lincoln, boy, your flight is done-
No more you'll chart the blue.
You've played with death, and death has won,
As death must always do.
You died while on the wing, old chap,
And though we cannot know,
We feel that after all mayhap
You would have wished it so.

George McManus,
San Francisco Examiner, March 15, 1915
---
Lincoln Beachey
Delighting hosts unnumbered
Upward he took his flight,
As fearless as an eagle,
Far to the dizzy height.
He conquered not for glory-
He of unblemished name-
He reveled in the heavens
And modestly won fame.
While as spellbound we watched him
And stood with bated breath,
Swiftly he plunged to earthward,
Down with the wings of death.

Now is his name immortal,
Now is his soul at rest.
Remember Lincoln Beachey,
Beloved still and blessed.

The King of the Air is gone
His victories are o'er,
And we shall see him soaring
Above the clouds no more.

E. A. Sayce
---
A Jump-Rope Rhyme
Lincoln Beachey thought it was a dream
To go up to heaven in a flying machine.
The machine broke down, and down he fell.
Instead of going to heaven he went to . . .
Lincoln Beachey thought it was a dream
Sung by San Francisco schoolchildren in the 1920s
Source: Frank Marrero's
Lincoln Beachey: The Man Who Owned the Sky

Back to the
Lincoln Beachey Story