What Do We Mean by a Web Site Storyboard?
A well done web site storyboard has three parts:
---
A quick sketch of the site's structure
This site for the (fictional) Acme Company has a total of seven (7) pages.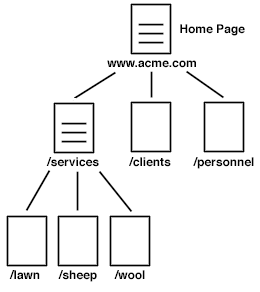 A detailed structural outline
The URL of each page is listed in an organized format
www.acme.com
www.acme.com/services
www.acme.com/services/lawn
www.acme.com/services/sheep
www.acme.com/services/wool
www.acme.com/clients
www.acme.com/personnel

A detailed sketch of each page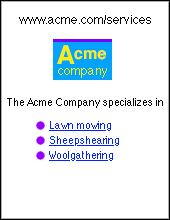 Each page is sketched in detail (by hand or with a page
layout program of your choice) showing placement of all
text, graphics and hyperlinks.
---
Once we see your completed storyboard, we can tell you exactly what the HTML and digitization fees will be for your project.
Back to: Instant Internet Presences || Back to: Start Now!
---
© Amacord - 2001. All Rights Reserved.