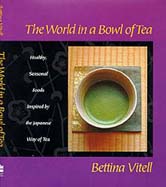 is a book of Kaiseki cuisine - the light, elegant, and nutritious food that accompanies a Japanese tea ceremony.

The author, Bettina Vitell, is best known for her vegetarian cookbook A Taste of Heaven and Earth, nominated for the IACP /Julia Child Award for Best Health Cookbook 1994.

---


The Japanese tea ceremony is a tranquil refuge for contemplation - a time of beauty, serenity, and graceful entertaining.

Flower arranging for tea is called Chabana. Seasonal flowers are arranged as though growing wild in a mountain field.
---


Poetic references to Zen sayings, Noh plays, famous places, and well-known poems also play an important role in a tea gathering.


Bookmark this page for seasonal listings of food, flowers, and poetry.
---


Quick Facts|| Links|| Contact us|| To Order
Urgent! Please Sign the Petition for Mandatory Labeling of Genetically Engineered Foods at http://www.safe-food.org/-campaign/petition.html
Recipes
Kaiseki cuisine emphasizes the use of high-quality seasonal foods, much like California cuisine. The food is light and nutritious, a reflection of the way people cook and eat today.

Wind in the Pines Chicken


Mustard Greens with Sesame Dressing



Rikyu, the great tea master of the sixteenth century, believed that beauty has its most powerful effect when it arises from suggestion and restraint. In the same spirit, a Kaiseki meal should be simple in preparation, cooked with your heart, and planned for the pleasure of your guests.